Kate and Adam
Hi all,
As the dust has settled on the most incredible 8 weeks of our lives – we just wanted to take a moment to thank-you all for ensuring that our wedding day was so perfect.
Trish: Having the perfect celebrant was really important to us. We wanted someone who would make us feel at ease, and be professional without being stiff or boring. We knew that was you the first time we spoke. You made all of the preparation so stress-free (even though we were in another country), and were so relaxed and calm getting us through the ceremony with all our nerves and tears. What touched us most was how personal the whole ceremony felt – with special help from your thoughtful ideas. You truly are someone who genuinely passionate about all things love and weddings! We had numerous people ask us where we found you and comment that it was such a lovely ceremony. We wouldn't hesitate to recommend your service to anyone – the day wouldn't have been the same without you!
Jennifer and Ramiro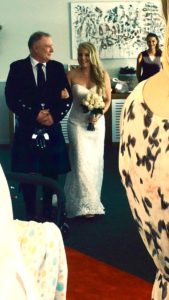 I just wanted to say thank you so much for being part of our special day. Despite the Brazilians being late 😉 everything went without a hitch!
Everyone had a good time and had great comments about the ceremony!
Jennifer and Ramiro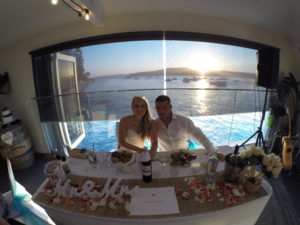 Michelle and Dahne
I couldn't just write the words about me…… I had to include all of them about the wonderful people who helped make their day special…..
Hello lovely people!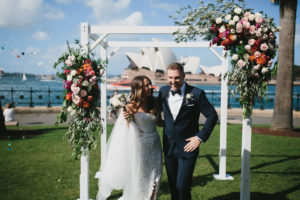 Now that the dust has settled I'd like to thank you all for helping make our day, the best day of our lives. It honestly could not have been any more perfect.
I have a few things to follow up but I'll do that individually.
Trish: Thank you for helping us sculpt such a beautiful ceremony. It was so important that the ceremony was as equally memorable as the 'party'. Most of our guests gushed that it was the most heart wrenching and moving ceremony they've ever attended!
Sarah and Yen: Hair and make-up was magnificent, lasted all day and all us ladies received many gorgeous compliments! Thank You
Lara, Chelsea and the team: Amazing work from go to wo. Everything happened so seamlessly, the ceremony set up was divine. Our guests loved the bar and nibbles table and we had so many guests mention how cool it was! The reception was equally beautiful. Thanks so so much!
Jess: Flowers were so gorgeous. From the arrangement and florals dressing the arbor, and chairs to all our bouquets etc. it was such a shame we couldn't take them home with us! You're work is so beautiful!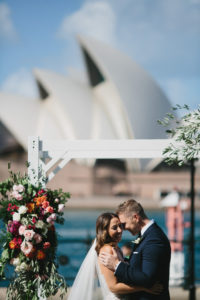 Michael: Wow! Your rendition of Fire & the flood was so perfect to have playing while I walked with my parents. It gave us all chills down our spines and again, our guests were blown away by your talent. You helped create the atmosphere that we could only have dreamed of.
Thom: From start to finish, you turned us from camera shy to next top model material! We cant wait to see the shots! All our family and friends agreed that your friendliness was making everyone comfortable in front of the camera.
Cadell and Ken: Cadell thank you for allowing me to be so carefree about the set up of the decks etc on board! And Ken, you met our brief and then some! You kept us all moving and shaking and above all, smiling all night with the best music all at the right time! You rock!
Simon: Words really can't express our appreciation! The service as soon as we and our guests boarded was impeccable. The wait staff were all so warm, friendly and on the ball! My glass was never empty and from the look of all our photos, neither were any of the guests! Haha! The food was delicious, hot when it needed to be, pasta was amazingly all dente and all the seafood was divine. Oysters were a huge hit! Please pass on our thanks to Chef Tim and boardwalk catering.
And thanks to whomever was responsible for the perfect weather! 😉
If we had to relive the day (We so wish we could) we honestly wouldn't change a thing! From the bottom of both our hearts – Thank you. You're all amazing and talented humans.
We'd be more than happy to provide a testimonial or referral, just let us know.
Regards,
Dahne and Michelle Eden
Jess and Nick
Hi Trish,
We just wanted to say a huge thank you so much for working with us to perfect our wedding ceremony. You did such a wonderful job and were such a please to work with! It was such a personal and intimate ceremony so thank u!
Hope you are very well! Thanks again from both of us!
Xx Jess and nick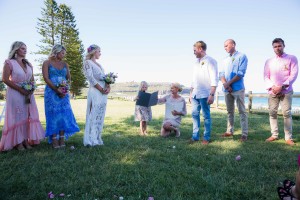 Keirra and Chris
Hi Trish, just wanted to thank you for everything you did on Saturday, you went above and beyond even helping out with extra bits and pieces. We are so grateful that you were our celebrant 🙂 I will definitely be recommending you to others!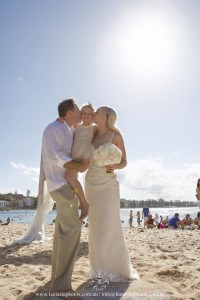 You helped make our day absolutely fantastic and we are so glad we found you and had you as our celebrant! Honestly could not have imagined a better celebrant to have!
Hope you had a fabulous rest of the weekend and we will hopefully bump into one another in the future xx
Keirra & Chris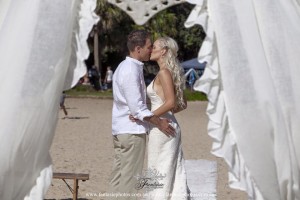 Jackie and Justin
Hi Trish,
We just wanted to say a big THANK YOU for our ceremony back last month. We are finally back from our honeymoon and settling back in to reality.We had such a great day and were so happy we could have you marry us. We couldn't have wished for a more perfect wedding. Sorry we kind of rushed off after it finished but glad we got to take a selfie with you. When we get our photos we'll definitely send some through.
Again, thank you so much. We had such a fantastic day and night.
Jackie & Justin
Beka and Con
Trish was such a joy and pleasure to work with and made the whole process easy and simple. She took everything we wanted and made sure our Ceremony was just like us and helped us when we needed some advice and help. She makes you feel so comfortable and relaxed when we are with her. And this is what you need on the day, as you have many pairs of ears staring at you. She made us laugh and smile everytime we met her and we new she was the perfect celebrant within seconds of meeting her. She will cater your ceremony to your style and needs and make sure its personal to you. Everyone said how perfect she was as a celebrant and we couldn't of been more happier with her. We couldn't say thankyou on the day as we were rushed away to take many photos and have hugs from the guests, but THANKYOU so much Trish for making our day perfect and run smoothly. Everyone should not hesitate to hire her, as she is perfect at what she does. Thankyou again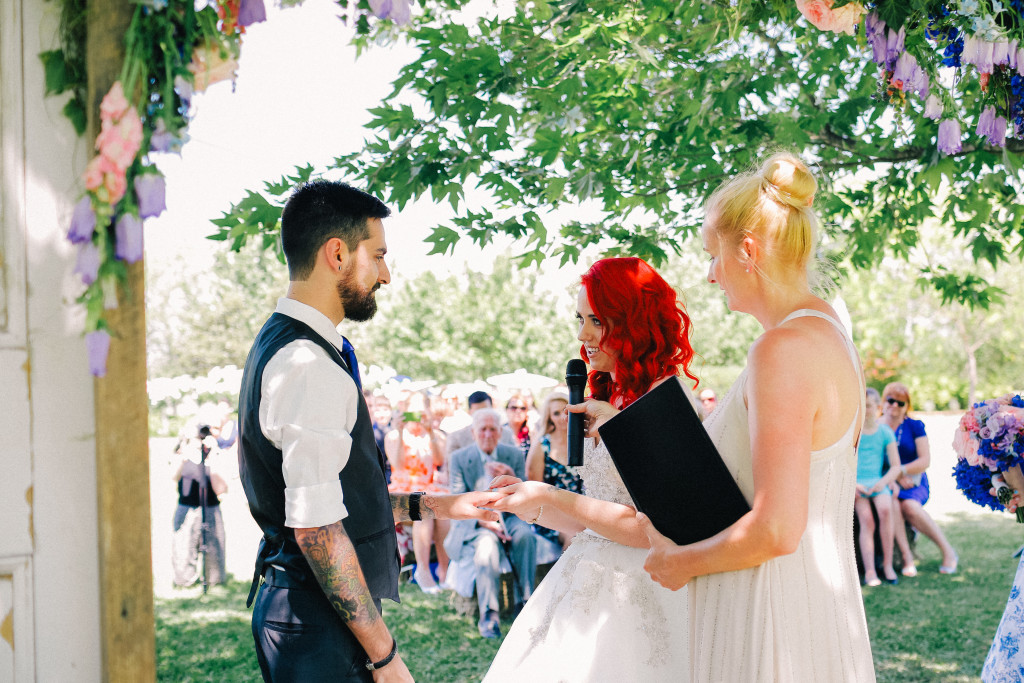 Gareth and Mey
"We were extremely fortunate to have met Trish as our first and only encounter with a Celebrant. With Trish we had the instant connection and where we were drawn in by her warmth and ability to tell a heartfelt story. At our wedding ceremony Trish helped set the scene and brought our guest along our wedding journey, involving them in the celebration. This meant a lot to us as our guest played a special part in our lives and we wanted them to be participants rather than just observers. Trish accomplished this with such grace and ease that we were smiling from ear to ear from the start to the finish. I would highly recommend Trish to anyone who's looking for a celebrant that goes that extra mile to make you and your guest feel special".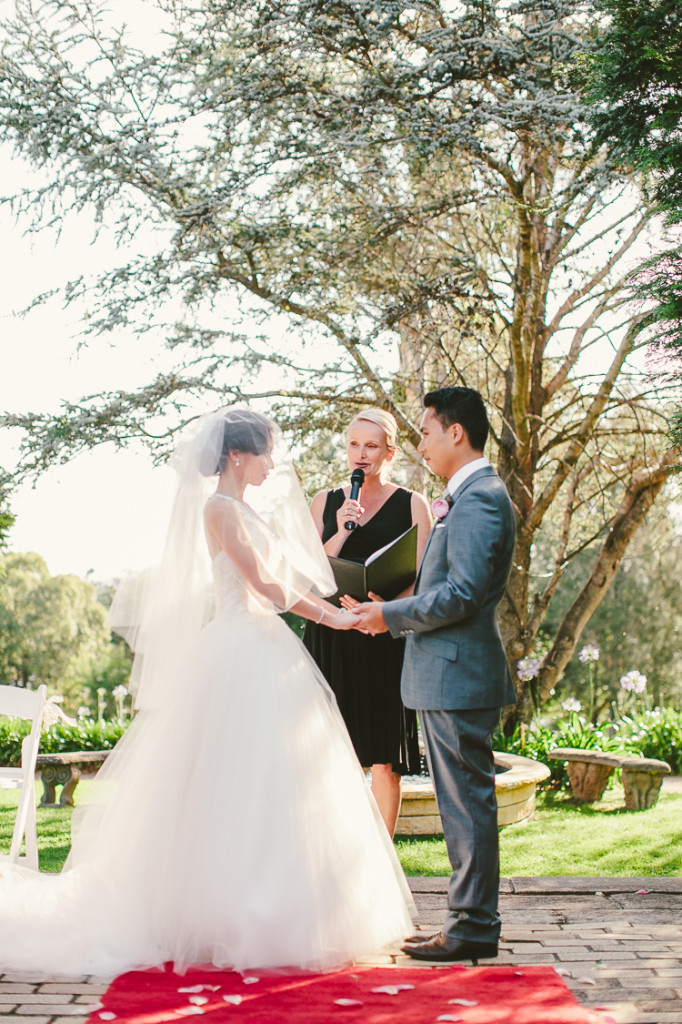 Vivian and Daniel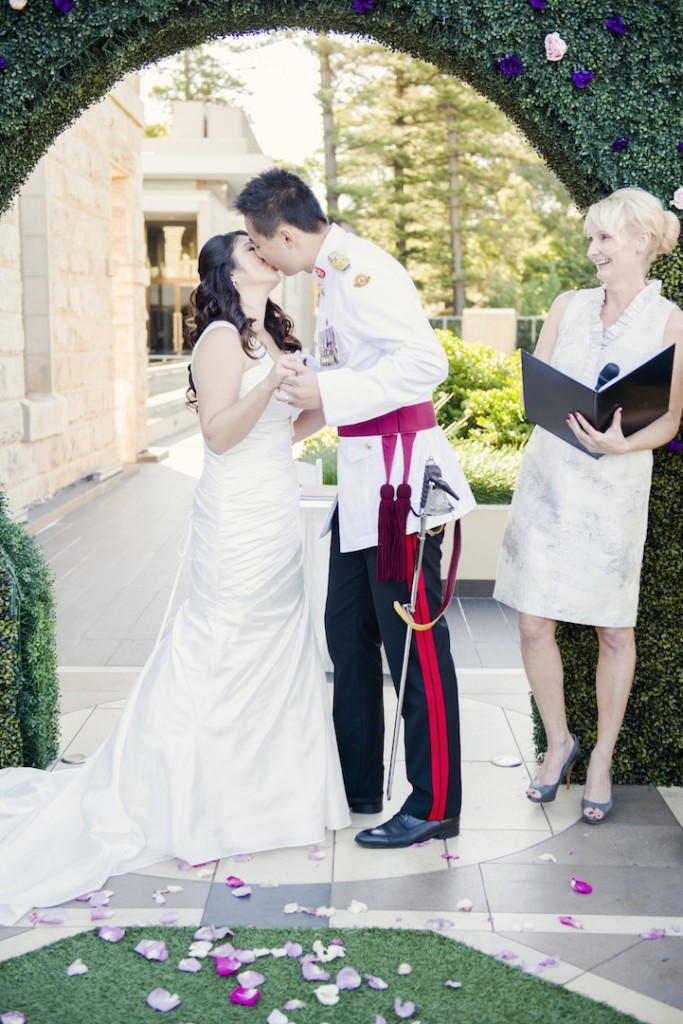 Trish, the very first night Dan and I had the interview with you we knew straight away you were going to be the celebrant for our wedding. Thank you for being the most incredible celebrant and friend for the lead up to our wedding and of course on our special day. The ceremony could not have been more perfect and we couldn't have done it without you! We highly recommend you to anyone as you are the most sincere and professional person we have met and you have truly helped in making our dreams come true.
V&D
Margaret and Rick
Rick and I wanted to drop you a line to thank you very much for the wonderful job you did on Sunday at our wedding.  You were so warm, friendly and professional – all at the same time!  Even though it was such a small intimate wedding you made it very special for us and we really appreciated it.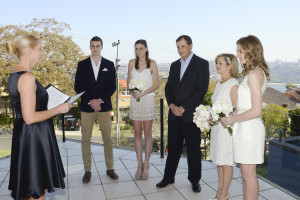 Thank you again and wishing you all the best!
Margaret and Rick
Connie and Christian
"Trish, you were amazing.  You made the whole process so stress free from the minute we met you.  You completely personalized our ceremony and  helped to make it one the most special days of our lives & even though it  rained it was still a magical day.  Thank you so much from the bottom of  our hearts & we hope to cross paths with you again one day 🙂
Thank you xx Connie  & Christian.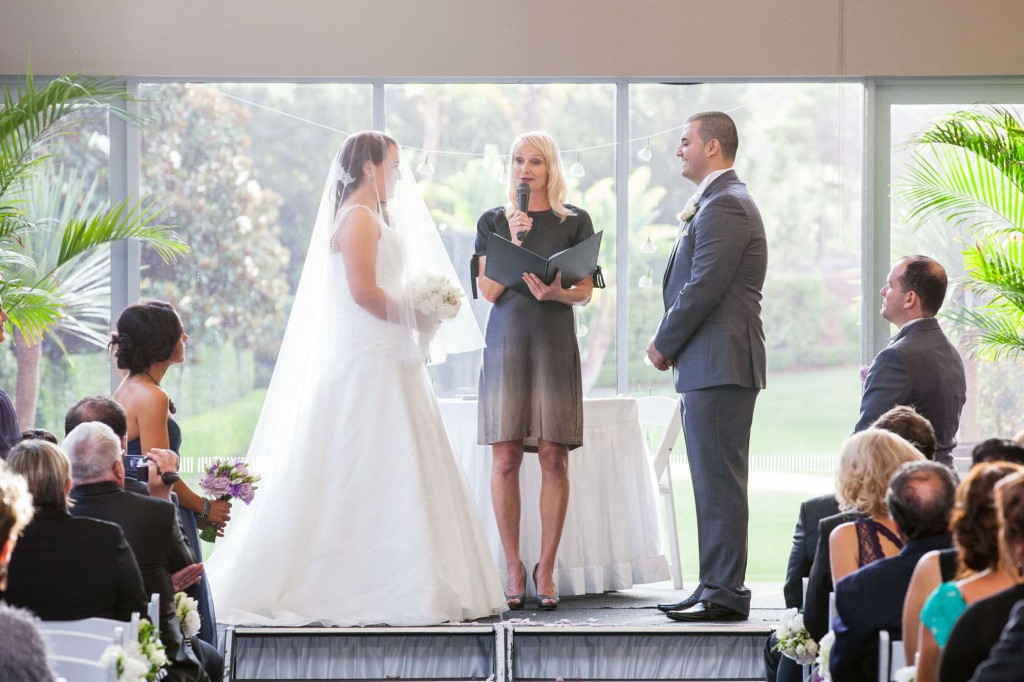 Kate and Angad
Trish, thank you so much for your friendliness, guidance and cooperation in organising the most beautiful wedding ceremony for us. We knew from the moment we met you that you were the perfect Celebrant for us, and you did such a wonderful job. We had many lovely comments from our guests, as well as having everyone in tears! We couldn't be happier.
With thanks, Kate and Angad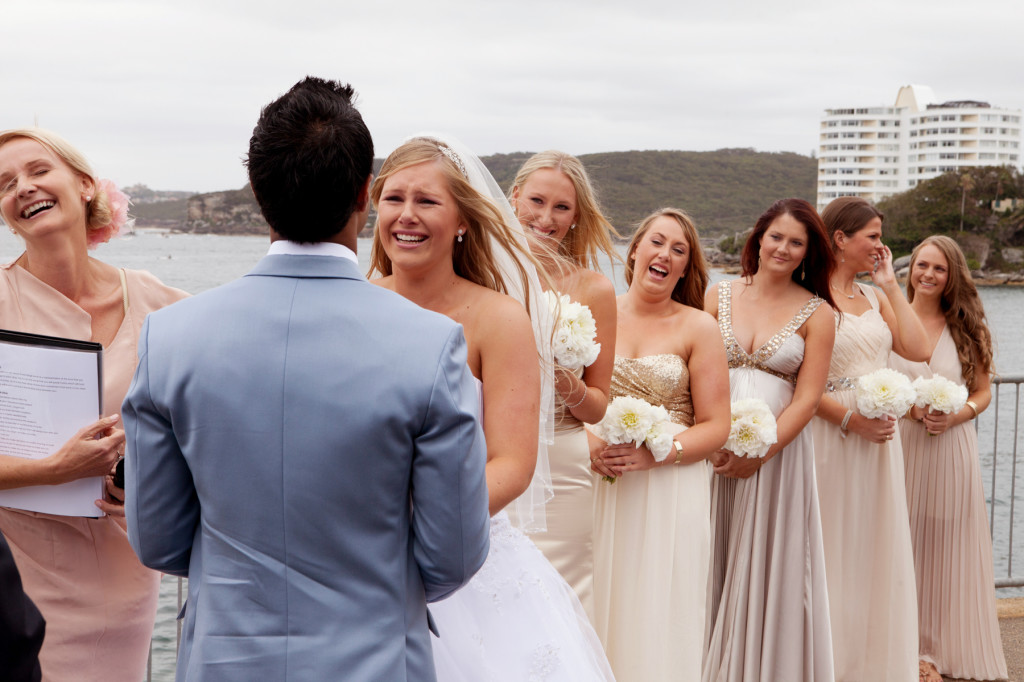 Thank you so much for being a part of our special day. The ceremony was absolutely  perfect, and will be something that we will cherish and remember for the rest  of our lives. Throughout the whole process you worked with us to makes sure  that it was our ceremony; with our personal touches.  Thank you for being  truly professional.
Thank You, Drew & Stephanie
"Trish did a great job as Celebrant at our wedding last November. Her warm and friendly, yet professional nature, made our ceremony a very enjoyable and stress free affair. We had numerous guests at our wedding comment on what a great job she did. We would have no hesitations in recommending Trish to anyone".
Kate and Shaun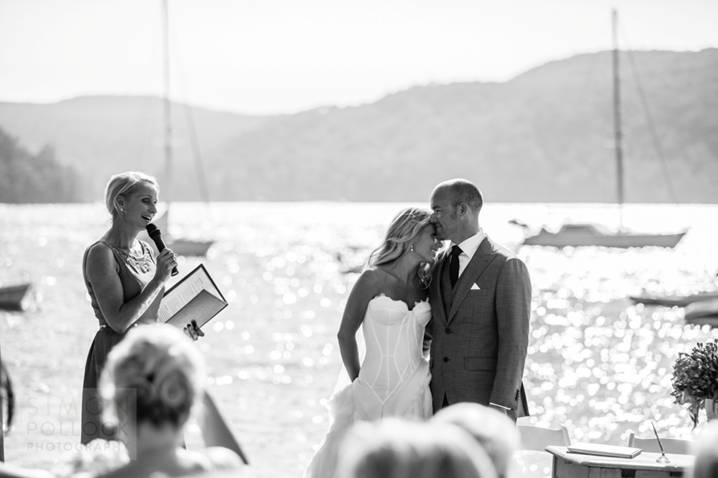 Firstly tell anyone doubting you as a celebrant they're Crazy.To have such a relaxed, confidant and honest person like you with us on the day was a great piece of mind. We loved that you excepted our invite to the reception. It was like a friend of ours married us.Every couple you are involved with in the future would benefit greatly with your smooth well spoken manner and professionalism. We had a great time. K&S
Tabby and Chris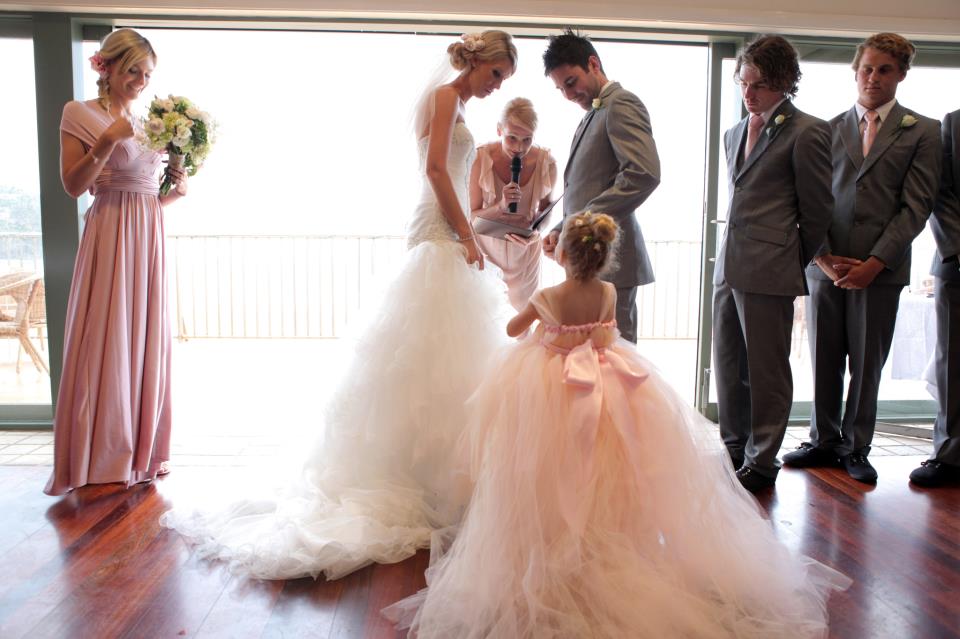 Trish Johnson was the first and only celebrant we met with, we knew straight after having our meeting with her that she was who we wanted for our wedding! Such a kind and genuine person, and when it looked like it was going to rain before our ceremony she was right there helping move things inside and helping to decide plan B! She was such an amazing help every step of the way, could not recommend her highly enough.
Andrea and Viktor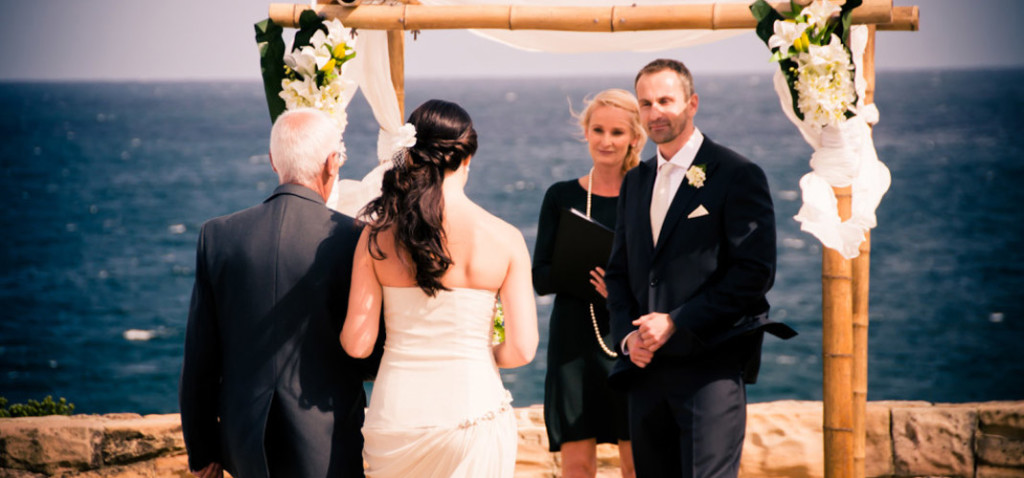 When we met Trish for the first time we knew straight away that she was the right person for our wedding. Trish is very professional and she made us feel very comfortable throughout the whole process. Everyone really loved the ceremony so thank you Trish, for being a part of our wedding and also for enduring the howling wind when you had to read our vows! We had a blast and the day was just perfect!  X  Andrea & Viktor
Stephanie and Peter
"Upon first introduction, Trish was very accommodating and made us feel very comfortable. She explained everything in detail e.g.: in terms of legal requirements/timeframe and provided us with examples of different types of wedding ceremonies to help us make our ceremony perfect to express our personalities.
On the wedding day, Trish was beautifully presented, arrived an hour before the ceremony to double check that there were no last minute changes, made all our guests comfortable and helped create a stress free wedding. The ceremony was perfect and exactly as we had written and rehearsed it and she pronounced all names perfectly.
Trish Johnson was the perfect celebrant and brought personality, empathy, and experience to ensure the ceremony was everything we wanted and ran smoothly.  We would strongly recommended Trish."
Peter and Stephanie October 2012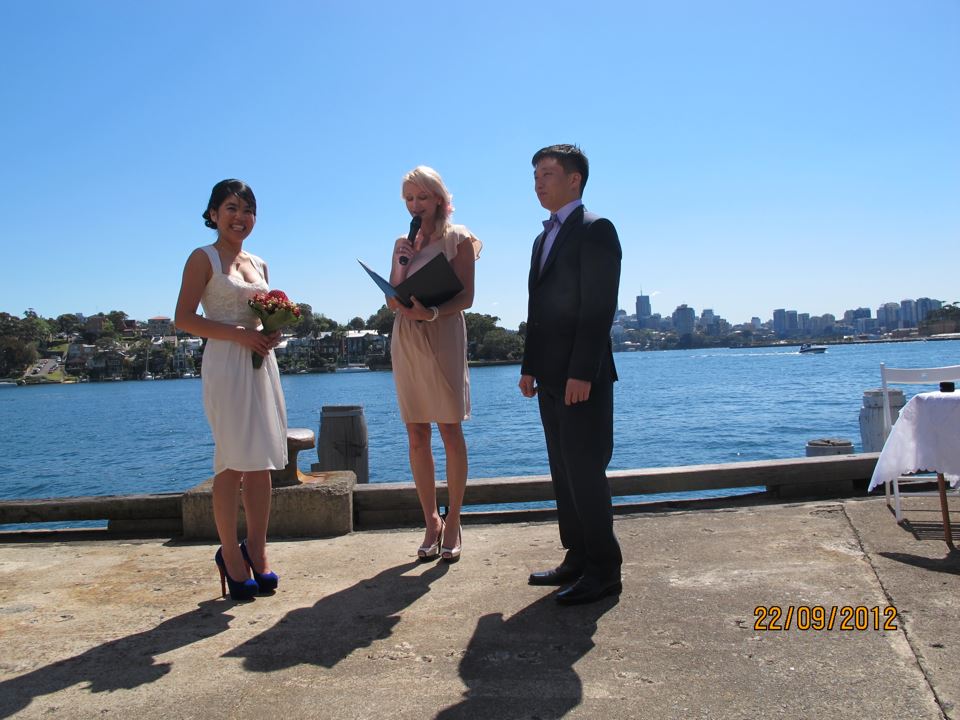 Gracia and Stephen
Jones Bay Wharf – middle of September. "Once again many thanks, and thank God for the beautiful weather, it couldn't have been better."
Gracia and Stephen
Hannah and Josh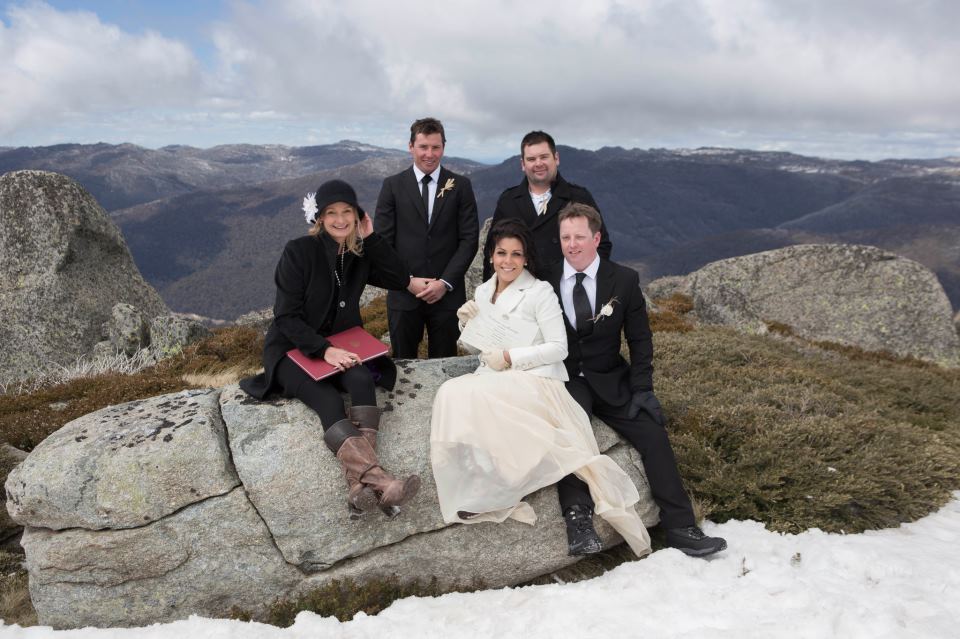 "I would like to finally, publically thank this amazing lady who casually jumped on a ski lift to almost the top of Mt Kosciusko in the middle of a blizzard with minus 3 degrees and 70+km winds to gracefully marry my husband =) josh and i!!
I did not meet you face to face Trish until late in the afternoon the day before we were married and it seemed like we had known you for quite some time. You helped us plan with ease from the other side of the country and simply made our special day so relaxed and fun and we can't ever thank you enough! Spread the word everyone, Trish Johnson is an amazing person who you should really consider for your special life events! Thank you again Trish xxx"
Jenna and Daniel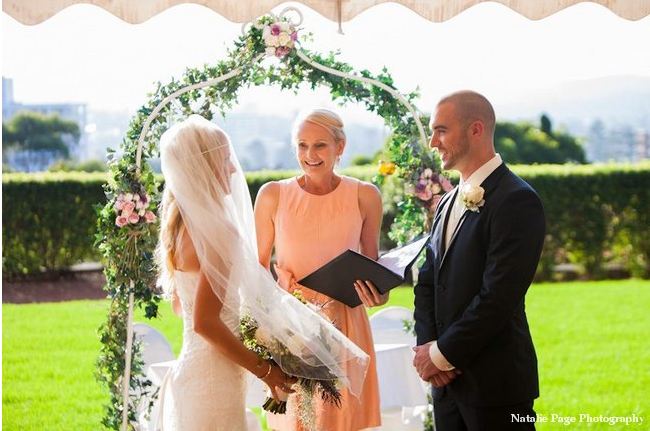 "I cannot speak highly enough of Trish as a marriage celebrant. From our first meeting to our wedding day Trish has been tentative, professional, genuine and most importantly to us, excited and enthusiastic about our special day. You really don't realise how important your celebrant is until you arrive and realise the entire ceremony is in their hands. It made all the difference to have someone who can give you direction with just a look and a calm presence. I am so happy that we managed to come across such a wonderful person who will be special to us forever. Thank you Trish x" Jenna
I just wanted to say thankyou for our beautiful wedding day, you did an awesome Job and me and Jenna were so happy with it. So thankyou and I will definitely be recommending you to our friends and family. Daniel
Monika and Alex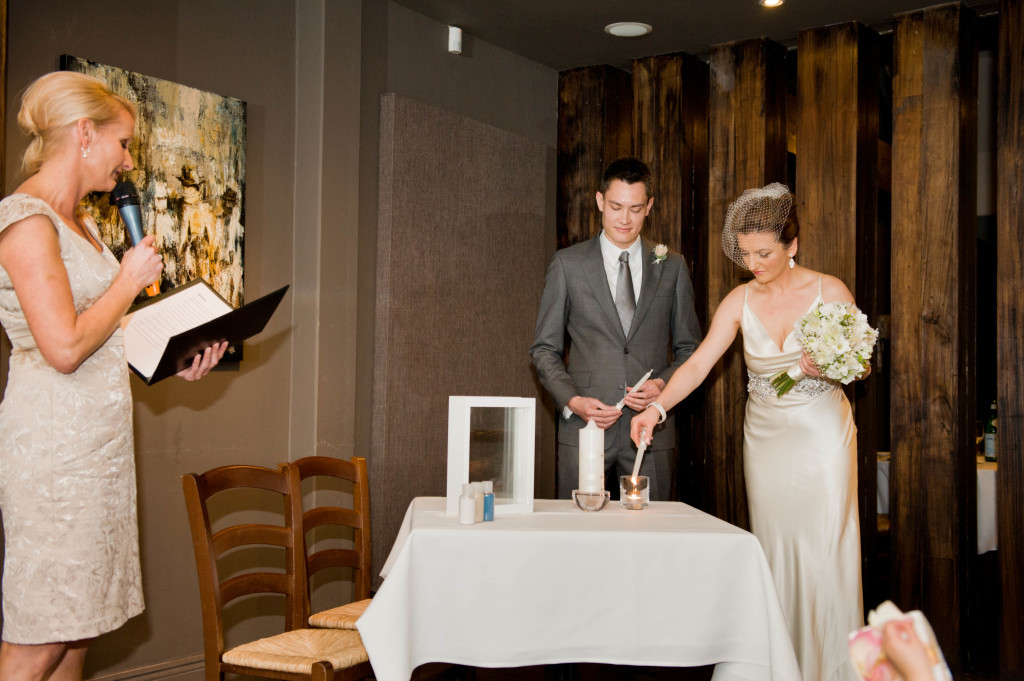 We would like to thank you for helping us make our special day as amazing as it was. For your professional approach, assistance with our ceremony, and for keeping us less stressed when the day came. We wish you a lifetime of success in your role as a marriage celebrant. Warm wishes. Monika & Alex Pawsey
Samantha and Adrian
"Weddings are a time of great happiness and excitement. A truly special time in your life which will stay in your memory forever, and the memories of all in attendance! However inevitably there will be stress and often moments of sheer madness where it seems like nothing is going to plan!
Trish appeared in our lives at one of those moments where, due to unforeseen circumstances, our wedding plans took a major detour. She was that wedding angel that came in and somehow made everything work out.
I knew straight away Trish was the one to marry us. She was so professional and helped us organise everything, really making me feel so much better about our last minute change of plans.
Trish went out of her way on every detail, going the extra mile without even being asked. I was so relieved to have her by my side; she took all my worries away in what was a very emotional and stressful situation. The the day was spectacular- much better than anything i had expected!
Thank you trish, you were amazing and we will never forget you. We did it!!" Sam and Red
Jane and Alex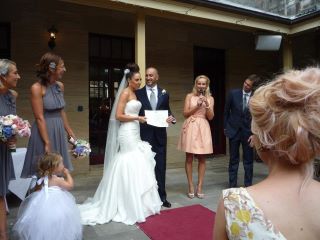 "A big thank you for giving such a beautiful ceremony at our wedding. Trish you were so much more than we could have asked for on our special day.
Your professionalism and calming influence both in the run up to the wedding and on the day itself, were very much appreciated, and we really wanted you to know that you really helped make our wedding day the most special day of our lives. Thanks again." Jane & Alex Ordon
Kim and Chris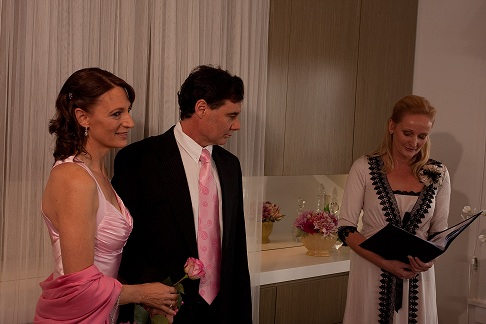 "Trish was amazing! Not only did she ensure that our wedding went off like a dream she also provided the most useful advice, help and support for the big day.
We can honestly say that Trish was the "x" factor that made our wedding so very, very special.  We cannot recommend Trish highly enough." Kim and Chris Davies
Lara's naming Ceremony  
"Thank you Trish for making our little girls naming day so very special and memorable for all that attended.
The time you took with us before the day to be sure that you had everyone's feelings about the day met and also so that you knew a little about all of my family to ensure you mentioned everyone that was special to our beautiful girl's life, was very admired and respected.
The service which you provided us with was above any expectations i had of hoped for the day. Thank you!  Heidi, Stephen and Lara x"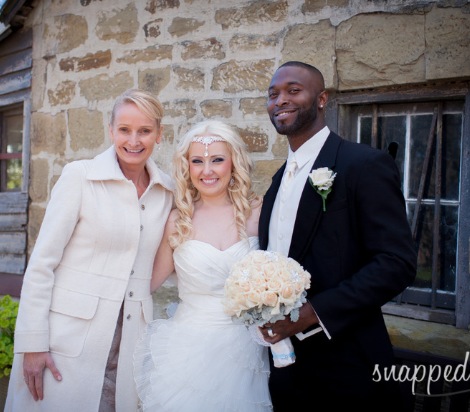 Melissa and Brian
"Hi Trish, I just wanted to say you where fantastic and so supportive throughout our whole process of our wedding, you done such a wonderful and beautiful ceremony and we couldn't thank you enough for putting it all together and making our dreams a reality. Both friends and family commented on how lovely and professional you where. Thank you so much again. The Whites ;)"